PGL Antwerp 2022 RMR
15 April 2022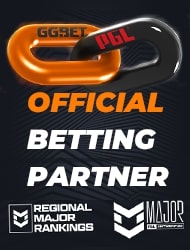 Dear Partners, we at GG.Bet have decided to launch another promo, this time to celebrate this year's PGL Antwerp 2022, one of the biggest CS:GO esports events.
The promo in question will boost all your players bets on the PGL Antwerp 2022 RMR matches. Any single bet placed on these matches, granted it's with odds of 1.75 or higher, will guarantee your players a bet insurance of up to $20.
Keep in mind that this is a one-time offer and it's available from April 11th until April 24th. Any player with a verified email can take part in this promo event.
It's super easy to get this done. Simply making an offer in players account and then depositing at least $20  in one payment will activate the bonus, which he can then grab and benefit from.
The maximum bet amount is capped at $20 and can only be used with real money on PGL Antwerp 2022 RMR matches.
As always, just make sure to ping your Affiliate Manager for the required Landing Page or Banners. Those can be found in the "Promo" tab of your affiliate account.